---
Current Featured Artist-
Cletis Carr
Cletis finished recording an e.p. at Soundshed in 2012.
He wanted to create a sound similar to Ryan Adams' album 'Ashes & Fire' - nice choice!
This song is my particular favourite.
I used M/S stereo on his guitars to acheive a full guitar sound that would fill up the sparse stereo image
---
Why Record with Soundshed Music - A relaxed, informal Creative space for Indie Artists
Indie Recording Artists need a studio where they can feel safe enough to take risks with their music, the kind of risks that will make their music unique and will stand-out from the rest of the crowd.

You don't want a 'cookie-cutter' approach to your music, using musicians playing the same old riffs and structures.
Soundshed Studio has been specifically set up with a warm, friendly, homely atmosphere so Songwriters & artists can feel totally comfortable and relaxed. We've created a perfect environment to help you make your music the best it can be.
Soundshed Studio is situated at the top of the Blue Mountains; far enough removed from city & suburban pressures to help your creative juices flow, but still an easy drive
Whether you are work-shopping demos or recording a full album for International release, Soundshed Studio is a state-of-the-art recording facility (Neumann mics, Chandler & TC Pre-amps, Nuendo DAW etc), but we've made sure the technology is kept transparent. Your comfort and your performance quality and creative flow are our priority
There are a lot of songwriters out there and every one of them these days has their own CD. As a songwriter you need a recording that stands out from the crowd and reflects your originality

At Soundshed Music we provide a recording service for songwriters who need their songs produced to a professional standard, ready for Independent Commercial CD or ONLINE release or submission to Publishers, Record Companies, Song Competitions, Film or TV broadcast
Your song will have real instruments: guitars, bass, drums, piano and keyboards, percussion - even vocals if you need - all world-class quality
We can deliver any musical style you need: Folk, Rock, Pop, Country, Hard Rock, Bush Bands. We've even produced many Kids' Albums and 'Block-Buster style' Big Band productions
Our Rates
Our hourly rate is $88 (AUD).

Although we may seem more expensive at first glance than other Recording Studios, our rates include Stewart Peters as Engineer, Producer and highly experienced Session Musician. Stewart plays world-class standard Guitars, Vocals, Drums, Bass guitar, Percussion and Keyboards. At other Studios you will almost certainly have to pay for additional Session Musicians: Drummer, Bass, Keyboards etc. But at Soundshed Music all these instruments are included in the one price.
In our experience choosing the hourly rate proves to be the cheapest alternative. Stewart is vert fast at getting the sounds his artists want -which results in cheaper sessions for you
Some Quotes from recent Clients regarding Stewart's creativity & skills as a Musician, Producer and Recording Engineer:

"... with Stewart Peters' amazing talents in songwriting and Production skills ... it has transformed (my song) into a professionally arranged, amazing song I can be proud of ..."

" ... I was able to bring my rough sample to him and we worked through the song bit by bit until I was satisfied with the result I was looking for. A very professional, no rush service ... "

"... the finished product is superb quality and much more than I expected..."

" ... I can only thank Stewart for turning my dreams into reality and making the whole process fun. Good people - great music"
"... I've recorded at many studios in the past, but I want that 'Soundshed sound': that intimate sound of my brushes hitting the snare ..." - session jazz/ folk drummer
(All Quote sources available on request)

If you're not a confident performer - or don't even sing
No problem. We are very experienced at getting the best performance from even the most nervous or inexperienced performers.
We can even add lead vocals if you're not a singer (usually included in the basic $88 per hour rate). We of course take care of all the other instruments for you - always taking very careful note of your wishes and requirements
Your song will have real instruments: guitars, bass, drums, piano and keyboards, percussion, even vocals - all fully professional, commercial release quality. We can deliver any musical style you need: Folk, Rock, Pop, Country, Hard Rock, Bush Bands. We've even produced many Kids' Albums and 'Block-Buster style' Big Band productions
Soundshed Music is much more than just another Recording Studio
Songs are about emotion - if your song doesn't convey emotions, then it's meaningless and missed the point
Soundshed Music is run by husband and wife team Stewart Peters and Snez, who are both deeply passionate about Writing, Producing and Recording dynamic, inspiring songs that convey all the emotion you intended
Soundshed's recording studio has been developed specifically as a tool for producing powerful songs that touch and excite people. And we're equipped with superb, world-class, professional technology and tools to produce your song as a fully broadcast quality master-track or album
Another unique point about Soundshed is that you get the Studio, the Engineer, the Producer, the Musicians and the Singers all included in the $88 per hour - or $660 (AUD) per song package, or $6000 (AUD) for ten songs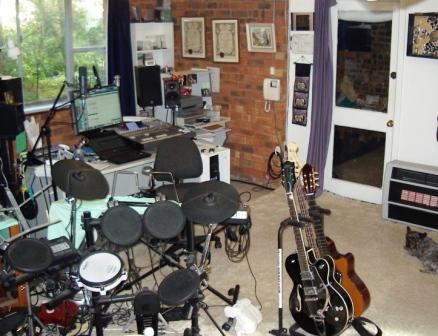 Above: Soundshed Music's Main Control Room -
Relaxed, friendly & homely with first-class professional recording equipment technology
(equipment listed on our About Us page)
Stewart Peters and Snez own and run Soundshed
Stewart and Snez have had many years experience writing, producing and recording with many artists and for major and independent record companies

"We understand the challenges songwriters face in getting their songs from their heads, or from live performance, into a unique and professional recording" - Stewart

"We will help you fine tune your song structure. We know all the techniques - and tricks:) to inspire you to get the best recorded performances out of yourself and we will add to the instrumentation only where it is really needed, to lift your song to its full potential ... and most importantly, we won't let anything getting in the way of Your Song and Your Performance " - Stewart
So can I hear some samples of Soundshed's productions?
Right at the top right hand corner of this page you'll find some samples.
Or Email Us let us know the musical style you are interested in and I can send you some more samples.

ONLINE Song Production
Have your songs professionally produced ONLINE for only $890 (AUD)
Soundshed Music specialises in Producing songs for Songwriters via the Internet. If you are out-of-town, interstate or overseas, we can work closely with you via the internet to produce your finished song.
There is no need for you to be in the studio to get a professional recording, just the way you wanted it
Go to our ONLINE SONG PRODUCTION page for full information

No extra 'hidden' costs - for only $890, you will receive a fully produced, mixed master of your song, ready for broadcast.
Contact
For more information and if you have any songwriting, recording or production questions at all, please contact us:


(02) 6569 5885
or just call us from any landline, anywhere in Australia and
we'll call you straight back at our expense
Or Email Us: stewart@soundshed.com.au